Rapid Dominance Corporation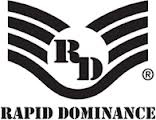 The headquarters for Rapid Dominance is located in Compton, California, a suburb of Los Angeles. We were founded on the vision that military apparel and tactical gear should not only perform well, but should be functional and have a unique style.

We are always researching ways to improve our products through the use of advanced materials, rigorous in-house testing, and customer feedback. We are able to confidently sell our products knowing that they have been tested at our facilities in California and overseas and most importantly, in the Field. We design and incorporate ergonomics, balance, strength, multi-functionality, and style into all of our products because these are the core values of each of our products. The result is innovated products that not only look good but that also perform exceptionally well. In addition, our Rapdom Tactical product line is backed by a Lifetime Warranty.

---
---
---
---
---
---
---
---
---