Altus Cass Creek Rutting Doe Female Deer in Heat: 2 oz. Bottle
* Rutting Doe is the Hottest Premium 100% Pure Whitetail!
* "Female Deer in Heat" product sold in this country.
* Female deer go in heat for only three days out of the month.
* The female deer we use are penned up the day they are going into heat, the actual day they are in heat and then the last day they are going out of heat.
* This insures the richest and most powerful "Female Deer in Heat" product on the market.
* Bucks will come quicker to the real scent of a "Female Deer in Heat" and they will stay longer for you to have that shot of a lifetime!
* 100% pure whitetail female deer in heat estruses urine, secretions and hormone discharge.
* Spray Harmon's Rutting Doe - female deer in heat lure - in a primary or mock scrape.
* In addition, you can saturate up to four 35mm film canisters filled with cotton balls and place them 20 to 30 yards in front of your hunting site.
* It will drive the big bucks crazy.
* 2 ounce bottle with easy spray top.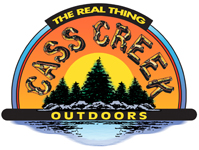 At Cass Creek we make it easy to lure game in close with our complete line of hunting products and hunting calls. Our innovative hunting calls are designed to vastly increase your hunting success rate. Cass Creek's hunting products give you more options and the best choices when it comes to locating your intended species, luring them in and making the kill.
All Cass Creek Outdoors products
Product weight:

4.25

lbs
Product dimension:

9" x 8" x 8"
This product is shipped from our warehouse in Traverse City, Michigan, USA.
This product is brand new and includes the manufacturer's warranty, so you can buy with confidence.
Please submit your product question using this form. All fields are required.