Altus Cass Creek Heart Stopper Synthetic Deer Attractant: 8oz Bottle
* 100% man made 8oz bottle
* Infinite shelf life.
* Has proved itself to be a year round deer attractant.
* One bottle, one formula, not three or four depending on the season!

* Use in synthetic scrapes or as an attractant near a runway.
* If used in a scrape other deer will urinate on the product and make your stand a community meeting ground!
* For best results use Heart Stopper Synthetics in a scrape.
* The most important part of this is to first eliminate all human scent!
* We all know that rubber boots and gloves are the best way to achieve that.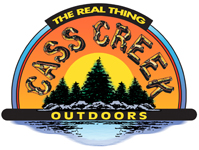 At Cass Creek we make it easy to lure game in close with our complete line of hunting products and hunting calls. Our innovative hunting calls are designed to vastly increase your hunting success rate. Cass Creek's hunting products give you more options and the best choices when it comes to locating your intended species, luring them in and making the kill.
All Cass Creek Outdoors products
Product weight:

6.75

lbs
Product dimension:

10" x 7" x 7"
This product is shipped from our warehouse in Traverse City, Michigan, USA.
This product is brand new and includes the manufacturer's warranty, so you can buy with confidence.
Please submit your product question using this form. All fields are required.